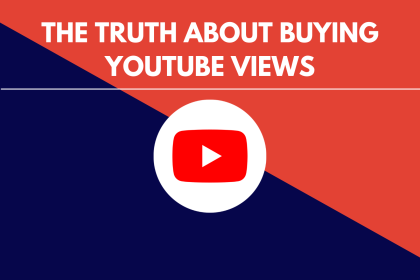 In recent years, YouTube has emerged as a powerful platform for content creators, marketers, and businesses to showcase their products, talents, and ideas to a vast global audience. With over 2 billion logged-in monthly users, YouTube has become a hub for entertainment, education, and promotional opportunities. As competition on the platform intensifies, some creators may be tempted to explore shortcuts, such as buying YouTube views, to gain an apparent advantage. However, in this blog post, we will delve into the realities of buying YouTube views, debunk common myths, and shed light on the potential risks associated with this practice.
The Mechanics of Buying YouTube Views
When you buy YouTube views, you engage in the process of artificially inflating the number of views your videos receive. This involves purchasing views from third-party services that employ various methods, such as automated bots, click farms, or other fraudulent means to generate the illusion of increased viewership. These services usually charge a fee based on the number of views you wish to acquire.
Debunking the Myths
1. Increased Visibility and Organic Growth:
One of the main reasons people consider buying YouTube views is the misconception that it will enhance their visibility and attract genuine viewers organically. Unfortunately, this is not the case. YouTube's algorithm is designed to detect artificial engagement, and as a result, purchased views are often filtered out, leading to penalties, potential removal of content, or even account suspension.
2. Monetization and Revenue Boost:
Some believe that by inflating their view count, they will become eligible for monetization and start earning significant revenue. However, YouTube has strict policies in place to ensure that only genuine, high-quality content creators can monetize their channels. Buying views violates these policies and can result in demonetization or loss of revenue.
3. Subscriber Growth:
Buying views does not translate into an increase in subscribers or a loyal fan base. Genuine subscribers are attracted to engaging, valuable content, not inflated view counts. Focus on creating compelling videos that resonate with your target audience to build a genuine subscriber base over time.
The Risks and Consequences
1. Violation of YouTube's Terms of Service:
Buying views is explicitly against YouTube's Terms of Service. The platform's algorithms are continually evolving to detect and penalize fraudulent activity, and violators risk having their content removed, their channel suspended, or even being permanently banned from the platform.
2. Damage to Reputation and Credibility:
Inflating view counts through purchased views may lead to a loss of credibility and trust from your audience, fellow creators, and potential collaborators or sponsors. Authenticity and genuine engagement are essential for building a sustainable brand or online presence.
3. Wasted Resources:
Spending money on purchased views is a short-term solution with long-term consequences. Instead, investing in high-quality content, optimizing your videos for discoverability, and engaging with your audience can yield far better results in the long run.
Conclusion
While the idea of rapidly boosting your YouTube view count may seem tempting, buying views is not a viable strategy for long-term success on the platform. YouTube's algorithm and community value authentic engagement, quality content, and genuine connections. Rather than seeking shortcuts, focus on creating valuable videos, optimizing for discoverability, and engaging with your audience. Building a strong presence on YouTube requires dedication, creativity, and patience, but the rewards are worth the effort.
Remember, genuine views and engagement not only drive your channel's growth but also provide a solid foundation for monetization, collaboration opportunities, and a loyal fan base. Stay true to your content and let your passion shine through.