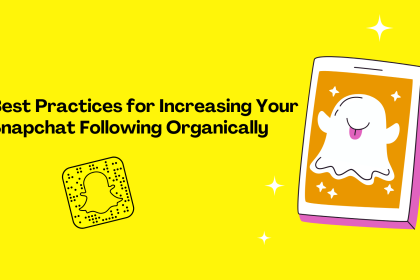 In the age of social media, building an organic and engaged following is key to success on platforms like Snapchat. While it may be tempting to explore shortcuts like buying snapchat followers, ethical growth is essential for maintaining a reputable brand and fostering genuine connections. In this blog post, we will explore the best practices for increasing your Snapchat following organically, enabling you to build a loyal audience that values your content and engages with your brand.
1. Provide Valuable and Relevant Content
The foundation of organic growth lies in delivering content that resonates with your target audience. Identify the interests, needs, and preferences of your target demographic, and create content that addresses their pain points or provides entertainment. Focus on quality rather than quantity, ensuring that every snap you share adds value to your followers' experience.
2. Consistency is Key
Maintaining a consistent presence on Snapchat is vital for attracting and retaining followers. Consistency not only helps you stay top of mind for your audience but also demonstrates your commitment to delivering valuable content. Whether it's daily snaps, behind-the-scenes glimpses, or exclusive promotions, ensure your followers know they can rely on you for regular updates.
3. Engage with Your Audience
Authentic engagement is the heart of organic growth. Take the time to interact with your followers by responding to their messages, comments, and snaps. Ask questions, conduct polls, and encourage feedback to spark conversations. By actively engaging with your audience, you not only strengthen the bond with existing followers but also attract new ones through positive word-of-mouth.
4. Leverage Influencer Collaborations
Partnering with influencers who align with your brand values and target audience can amplify your reach and enhance your organic growth efforts. Seek out relevant influencers in your niche and collaborate on mutually beneficial projects or promotions. These partnerships introduce your brand to a wider audience, allowing you to tap into new Snapchat followers who are genuinely interested in your content.
5. Cross-Promote on Other Platforms
Utilize your existing online presence to promote your Snapchat account. Cross-promote your Snapchat username or Snapcode on your website, blog, other social media profiles, and email newsletters. Leverage your existing audience base and encourage them to follow you on Snapchat for exclusive content or behind-the-scenes updates. This approach helps to bridge the gap between your different platforms, expanding your Snapchat following organically.
6. Utilize Snapchat's Features
Snapchat offers a range of features designed to boost engagement and discoverability. Make use of features like Snap Map, where you can share your location and engage with nearby Snapchat users. Additionally, leverage Snapchat's Discover section by creating compelling and shareable content that has the potential to be featured, exposing your account to a wider audience.
7. Collaborate with Snapchat Communities
Snapchat communities and groups are an excellent avenue for organic growth. Seek out communities relevant to your niche, join them, and actively participate by sharing valuable insights, answering questions, and connecting with like-minded individuals. By establishing yourself as a knowledgeable and engaged member of the community, you can naturally attract followers who share your interests.
Conclusion
When it comes to growing your Snapchat following organically, there are no shortcuts. Ethical growth practices centered around providing value, consistent engagement, and leveraging relevant partnerships are the keys to success. By focusing on building genuine connections and fostering a loyal audience, you can achieve long-term growth and establish your brand as a trusted presence on Snapchat. Embrace these best practices and watch your organic following flourish, creating a thriving community of engaged followers who are enthusiastic about your content.